Meet The Chefs
Get to know our expert chefs that lead our talented kitchen team at Saigon Café restaurant and bring tantalizing local seafood dishes with a gourmet twist to Saigon diners.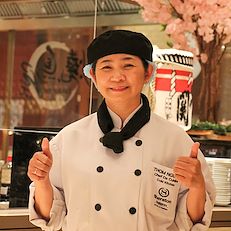 Thom Nguyen
Cold Kitchen's Chef De Cuisine
Thom Nguyen
Cold Kitchen's Chef De Cuisine
A mastermind of our Cold kitchen and a notable member of the Sheraton Saigon family for 18 years. If you're a hardcore fan of the hand-rolled sushi, salad dishes, or the cured meat delights at Saigon Café, chef Thom is the one makes these delectable dishes. She's also an expert in salad recipes at work and a master in making Vietnamese stuffed bitter melon soup at home. Sharing her secrets to a happy career, Ms. Thom said it's only about 3 things: your dedication, your self-confidence and your trust in the power of teamwork.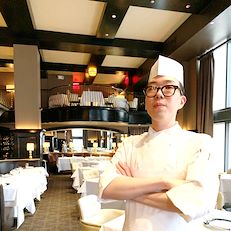 Jae-hyun Cho
Korean Sous Chef
Jae-hyun Cho
Korean Sous Chef
A chef of distinction, with years of learning from finest culinary establishments in South Korea and United States, chef Jae has proved the professionalism and leadership qualities throughout his time working at Michelin-starred restaurants and luxury hotel. Experienced in consulting for new concept and pre-opening restaurants, he demonstrated such great knowledge and attention to details in both contemporary cuisine and fine dining. Chef Jae takes great pride in every aspect of his job and never lose his touch with current trends as well as cooking techniques. With his passion and extensive philosophy for culinary arts, Chef Jae unquestionably works his magic to bring out the finest yet authentic taste from renowned Korean and international dishes closer to diners at Saigon Café.